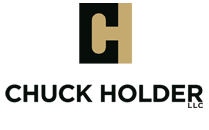 Chuck Holder llc
Opening doors to your success.
Chuck's passion is helping new entrepreneurs follow their dream to live life on their own terms... supported by their businesses. He assists individuals in creating a business where they can purposefully and intentionally market their dream to result in personal fulfillment and financial success.
Initially he helps individuals embark on the right business path and he identifies the implications and consequences of time, risk, and financial investment. He then offers guidance to successfully manage their enterprise, helping them take appropriate steps to adapt to an ever-changing business environment.
In owning and operating various business ventures over the years, his 'life lessons learned' now provide the impetus that directs him as he shares his expertise and knowledge of what works and what doesn't in the marketplace with both new and established companies.
Chuck is a valued partner to businesses of all sizes and stages of development, providing solid answers to critical questions and situations existing in the marketplace. He is also a coach and cheerleader helping them assess, reassess, and adjust their priorities as necessary to stay focused and meet their goals. Further, his knowledge concerning the precise action to take to protect, enhance, and ensure long-term growth makes him an indispensable asset for navigating the business world.
Always involved with business and community organizations, Chuck is committed to helping others and gives back by investing his time and energy at a variety of social and business endeavors and events.
Chuck believes "Nothing can be better than living the life you were meant to live."
Give us a call at 484-671-2644 or email Chuck at chuck@chuckholder.com to see how we can help.